ACTIVE COMPONENTS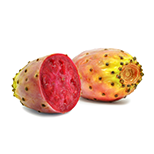 Opuntia
Opuntia is a cactus that has earned the name "natural botox". It has lifting effects, it hydrates, nourishes, and regenerates the skin and it smoothes out wrinkles. It offers great protection against the sun, and it eliminates swelling and dark circles.
Liquorice
Glycyrrhiza glabra root extract slows down aging processes, prevents hyperpigmentation, softens, reduces roughness and unevenness.
AHA (Alpha hydroxy acids)
Malic acid is one of the most popular AHA. Gently sloughs off cornified skin cells, stimulates skin regeneration.
Collagen
Collagen improves skin elasticity, facilitates the smoothing out of wrinkles, makes it soft and smooth, maintains optimum moisture level.
Allantoin
Allantoin softens and moisturizes the mucosa and prevents irritation. It heals sore mucosa and other mucosal damages.
CUSTOMERS' APPRAISALS (1)
SPECIAL OFFERS
DB query error.
Please try later.