ACTIVE COMPONENTS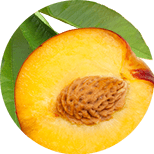 Prunus persica
Prunus persica leaf extract softens the skin, restores its optimum moisture level, smoothes out fine lines, leaving the skin polished and younger looking.
AHA (Alpha hydroxy acids)
Malic acid is one of the most popular AHA. Gently sloughs off cornified skin cells, stimulates skin regeneration.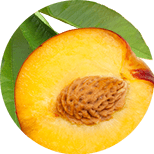 Prunus persica
Peach oil is a universal base oil that is suitable for all skin types. In Tibetan medicine, it has been used to treat many problems, including skin problems. Peach oil perfectly hydrates and nourishes the skin, acts against drying and peeling of the skin, accelerates tissue regeneration, has a beneficial effect on the nail plate and surrounding skin.
Soy
Soybean oil provides the skin with the necessary nutrition, slows down the ageing process of cells, participates in the formation of new and regeneration of damaged skin cells, and strengthens the protective functions of the skin.
Vitamin E
Thanks to Vitamin E, the hands become soft and velvety, while the nail beds become strong, even and healthy. If your nails keep breaking or won't grow well at all, ramp up your care "ration" with a product featuring Vitamin E. In no time at all, your nails will be much stronger, their growth will get faster, and your cuticles will be soft and tame.
Panthenol
Panthenol is provitamin B5, a product of pantothenic acid (from the Greek word pantos meaning "generally everything"). Pantothenic acid is found in all biological tissues, and in case of their damage, the demand for it increases sharply. Panthenol accelerates the regeneration processes of the skin, increases its softness and elasticity and smooths fine wrinkles.
Urea
It is an ingredient of the natural moisturising factor (NMF) and an irreplaceable component of healthy skin. Urea maintains an optimal skin hydration level and a healthy epidermal barrier.
Collagen
Collagen amino acids perfectly moisturize the skin, make it more supple and elastic, maintain optimum moisture level.
Sea salt
Sea salt cleans the skin, nourishes it with required microelements, activates metabolism, increases the tone and elasticity of the skin, and makes it smoother and more velvety.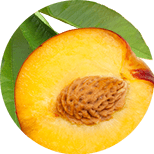 Prunus persica
Prunus persica fruit extract facilitates rejection of the stratum corneum and the rapid regeneration of cells, improves tissue respiration, restores moisture balance in the skin, reduces the quantity and depth of fine lines, leaves the skin delicate and smooth.
BE THE FIRST TO LEAVE A REVIEW.
SPECIAL OFFERS
DB query error.
Please try later.