ACTIVE COMPONENTS
Mentol
Menthol takes a counter-attracting effect accompanied by a feeling of cold. It relieves irritation and tones the skin. Menthol is an excellent refreshener and unpleasant smell remover.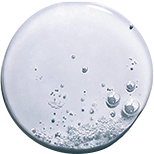 Silicic acid
Hydrated silica is a fine mineral obtained from silicon. Its spherical pellets effectively clean tooth enamel without damaging it.
BE THE FIRST TO LEAVE A REVIEW.
SPECIAL OFFERS
DB query error.
Please try later.