ACTIVE COMPONENTS
Sodium percarbonate
A compound of soda crystals and hydrogen peroxide that releases so-called active oxygen when interacting with water. The active oxygen oxidizes the organic compounds that have accumulated in dirty areas, transfering them to the water solution. Sodium percarbonate rinses completely from fabrics, leaves no residue on clothes, does not contain chlorine, phosphates or dyes, absolutely harmless to human health.
Nonionic surfactants
Biodegradable surfactants that have excellent washing properties and the ability to retain impurities even without the use of additional substances. They are excellent for removing dirt from various surfaces.
Enzymes
Catalytically-active proteins intended for organic dirt removal.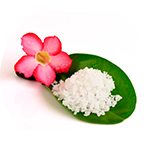 Bischofite
This poly-mineral is evaporation of the ancient ocean, deposited and pressed in the bowels of the Earth.
BE THE FIRST TO LEAVE A REVIEW.
SPECIAL OFFERS
DB query error.
Please try later.