ACTIVE COMPONENTS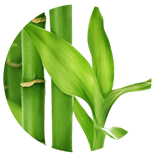 Bamboo
Bambusa arundinacea leaf extract is an excellent absorbent that extracts dirt from the skin's surface, significantly accelerates the removal of toxins and regeneration of cells.
AHA (Alpha hydroxy acids)
Lactic acid is an АНА that gently sloughs off cornified skin cells. Evens out the skin's microrelief and normalizes its water balance, slows down aging processes, improves elasticity.
Witch-hazel
Hamamelis virginiana leaf extract improves the skin's look, softens, smoothes, keeps the skin elastic.
Vitamin E
Vitamin E (Tocopherol) nourishes, regenerates, slows down aging processes by neutralizing free radicals.
Ascorbic acid
A powerful antioxidant that slows down aging processes, penetrates into deeper skin layers, activates the synthesis of collagen fibers, and strengthens the walls of blood vessels.
CUSTOMERS' APPRAISALS (1)
SPECIAL OFFERS
DB query error.
Please try later.