ACTIVE COMPONENTS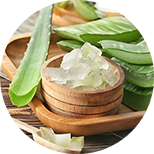 Aloe
Aloe barbadensis leaf extract soothes, softens and moisturizes the skin, stimulates its regeneration, improves elasticity, smoothes out fine lines.
Mentol
Menthol takes a counter-attracting effect accompanied by a feeling of cold. It relieves irritation and tones the skin. Menthol is an excellent refreshener and unpleasant smell remover.
BE THE FIRST TO LEAVE A REVIEW.
SPECIAL OFFERS
DB query error.
Please try later.