ACTIVE COMPONENTS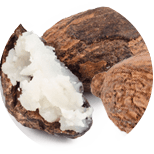 Shea butter
Shea butter is the bestseller of anti-age cosmetics. It nourishes the skin with vitamins A, Е and F. Vitamins А and E help preserve a young appearance of the skin, prevent premature wrinkles and mimic lines, and have a photo protective effect against ultraviolet.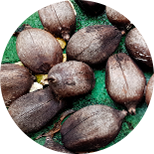 Babassu oil
Babassu oil is effectively applied in body skin and nails care. By nourishing and moisturizing the skin, the oil restores its natural barrier and protects from dehydration. Because of high lauric acid percentage, the oil possesses germicidal properties. And the antioxidants that are contained in it – vitamin Е and phytosterols – ensure its ability to fight premature skin aging.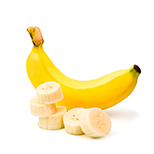 Banana extract
Salutary substances that are contained in banana extract comprehensively influence the condition of the skin. Phytosterols contribute to reduction of wrinkles and improvement of the skin micro relief. Vitamin В helps normalize cellular metabolism; it nourishes and moisturizes the skin preserving its firmness and elasticity. Vitamins C and E improve the skin appearance and prevent its premature aging.
Vitamin E
Vitamin E (Tocopherol) nourishes, regenerates, slows down aging processes by neutralizing free radicals.
BE THE FIRST TO LEAVE A REVIEW.
SPECIAL OFFERS
DB query error.
Please try later.