ACTIVE COMPONENTS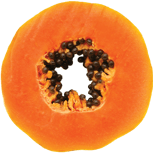 Indian mango
Indian mango is a subject of pride for the Indians who believe it was created by God Shiva himself and call it "a divine fruit". Mango extract provides excellent hydration and regenerates hair, skin and body. It makes your hair soft and shiny and your body smooth and flexible.
Panthenol
An indispensable remedy for hair nourishment and growth: makes it thicker and stronger, provides for its manageability, removes static cling, makes hair vibrant and bouncy.
Vitamin E
Vitamin E is a powerful antioxidant that protects against the oxidation and destruction of scalp and hair lipids, helping to protect their protective barrier. It also provides timely delivery of oxygen to hair follicles, as well as stimulates their nutrition, improving the overall condition and appearance of your hair.
BE THE FIRST TO LEAVE A REVIEW.
SPECIAL OFFERS
DB query error.
Please try later.