ACTIVE COMPONENTS
Sodium hyaluronate
Intensively moisturizes the skin, improves skin elasticity, makes the skin smoother. Smoothes out fine lines, improves the softness and suppleness of the skin.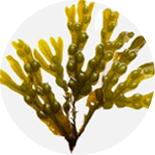 Brown seaweed
Seaweeds are literally like mushrooms. They extract minerals, vitamins and trace elements, iodine, and other beneficial substances from seawater. Brown seaweed extract promotes effective hydration and improves skin tone and elasticity.
Collagen
Collagen extract supplies the lack of protein in the skin improving its structure and increasing the turgor. The skin becomes firm and elastic.
Trehalose
A vegetable polysaccharide that helps retain moisture in the skin and smooth out wrinkles. Makes the skin more supple and elastic.
BE THE FIRST TO LEAVE A REVIEW.
SPECIAL OFFERS
DB query error.
Please try later.