ACTIVE COMPONENTS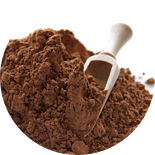 Алкализованное какао
Получают из какао-бобов при помощи специальной технологии. Алкализованное какао – это чистый продукт без примесей, сохраняющий всю пользу бобов. Оно растворяется без остатка, обладает ярким насыщенным вкусом шоколада и обеспечивает защиту от окислительного стресса.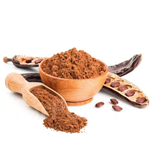 Carob
This is dry pulp of Ceratonia siliqua beans with the taste of cocoa but caffeine-free in contrast to cocoa. Exactly because of this, carob is called a healthy chocolate substitute. It helps to reduce hunger pangs, normalize intestinal functioning, boost immunity and stabilize blood pressure, affects the skin condition favorably. Carob relieves irritability and aggressiveness and has a soothing effect.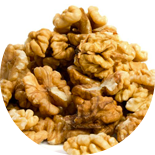 Juglans regia seed protein
It is a high-quality building material for the internal organs and the systems of the entire body. It helps activate the metabolism, prevents the symptoms of early ageing, and protects the body against various kinds of damage.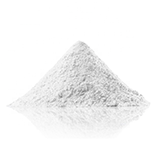 Йодид калия
Это соединение неорганического йода, основное назначение которого – восполнение нехватки йода. Йод – жизненно необходимый микроэлемент, который входит в состав гормонов щитовидной железы и обеспечивает ее нормальное функционирование. Недостаток йода в организме проявляется хронической усталостью, снижением иммунитета, интеллекта, плохим настроением и избыточным весом и многими другими проблемами.
Pectin
It is a plant-based substance. Pectin helps the body get rid of harmful substances and reduce cholesterol in the body. It perfectly stabilizes the metabolism and improves intestinal peristalsis.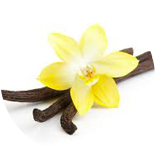 Ванилин
Приправа, которая своим приятным ароматом способна улучшить настроение, успокоить и подарить настоящее расслабление, а также придать напиткам особую изысканность.
BE THE FIRST TO LEAVE A REVIEW.
SPECIAL OFFERS
DB query error.
Please try later.